Our Annual Campaign runs December through June 30 each year.
It is because of the generous and open hearts of our community that we are able to do our work. Thank you.
The following people contributed during our Annual Fund Campaign - from December 1, 2019 to June 30, 2020.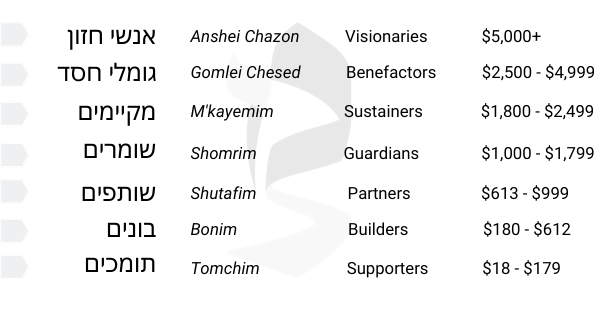 Roger Bernstein
George Gabanyi
Sandy Greenstein
Daniel Kaufman
Irv and Ellen Robinson
Heather and Robert Westendarp
BENEFACTORS: $2,500 - $4,999
Anonymous
Howard Brill and Barbara Grosh
Ann Margolin
Robert Mass
Betsy Teitell
SUSTAINERS: $1,800 - $2,499
Karen and Chris Cheniae
Sandy and Barry Diamond
Rick and Tina Fein Dinitz
Samuel Finnerman
Diane Litke
Nana Meyer
GUARDIANS: $1,000 - $1,799
Roann Altman
Barry Block
Herb Buchbinder
Seymour Fertig
Sandra and Michael Garrett
Rita Gelman
Jack and Lisa Gildar
Steven Goldberg
Kathleen Jacobs
Kalinka Moudrova
Brad Sham
Caryl Shaw
Garth and Esther Symonds
Annabelle Imber Tuck
Julie August
Leslie-Anne Copes-Finke
Dena Forster
Martin Friedman
Judith Golden
Beth Greenberg
Alan Morinis and Bev Spring
Gary Shaffer
Stephanie Aaron
David Abramson
Sammy Alzofon
Jeffrey Aran
Carole Ash
Rose Ashford
Joanna Berke
Elizabeth Bernstein
Ken Birenbaum
Marsha Cohn
Carol Congedo
Todd Mathew Doctor
Judith Edelstein
Andy Edwards and Terry Lee Heller
Avi Fertig
Jerome Frank
Bruce Frank and Enid Weisberg-Frank
Jay and Barbara Gainsboro
Nina Gelman-Gans and Ron Gans
Darren and Miriam Goodman
Stephen Haas
Helaine Hartman
Susan Heckler
Barry Horowitz
Caroline Isaacs
David Jaffe
Joan Kaspin
Natalie Kirsh
Karen Klevanosky
Marsha Lynn
Bob Mandell
Sharon Mars
Margo Martin
Sue Matlof
Joseph Meszler
Sheila Joan Meyers
Moira Morrissey
Ilse Mozga
Bonnie Pastor and Ben Pomerantz
Nora Perlmutter
Myra Peskowitz
Nina Piken
Debra Pinger
Alyson Ray
Carnie Rose
Jane Saginaw
Jim and Mary Salander
Muren Schachter
Sharon Schwartz
Susan and Steven Schwartz
Janet Shalwitz
Howard Shapiro
Helaine Sheias
Laurie Silver
Sharona and Howard Silverman
Prudence Simkin
Deborah Steinberg
Lee and Candace Steingisser
Sherry and Dan Weinberger
Nancy Weiss
Naomi Wittlin
Martin Zwick
Jeff Agron
Congregation Albert
Wendy Amer-Hirsch
Regina Begliutti
Judith Beltz
Susan Benson
Patricia Gross Bergman
Sharon Berman
Walter Berman
Arlene Robin Bernstein
Jenifer Blum
Lisa Bock
Paula Brose
Debbie Brown
Brett and Sarah Byron
Marilyn Byron
William Carvajal
Karen Chapman
Ellen Cronin
Kent Dawson
Elizabeth Lynn Eastman
Barbara and Philip Einsohn
William Elliot
Robin Feldman
Rivka Felsher
David Fiday
Alan C Fisher
Emily Fox
Janet Garber and Kris Keydel
Gayle S Geary
Joshua Gettinger
Laurel Ginsburg
Arnold and Sarah Gluck
Robert Goldberg
Rachel Goldner
Rochelle Goldstein
Mel Gottlieb
Jared Greisman
Josh Gressel
Eric Gurvis
Laszlo Gyulai
John Hample
Eric Henley
Flaurie Imberman
Shelley Jones
Libby Kahn
Bonnie J Kaplan
Shelley Karrel
Yorum Kinberg
Karen Klevanosky
Anthony Knopf
Marc Korashan
Steven and Rose Krasnow
Joan Lancin
Bruce Levinson
Bonnie Leopold
Robert Lichtman
Lynn Liebling
John List
Richard Litvak
Carol Mardar
Nancy Martin
Bob Moore
Leora Morinis
Steve Moscovitch
Eileen Nathanson
Tamara Novak
Eric Paul
Gary Pokras
Sharon Pollack
Brian Primack
Evelyn Prince
Andrew Reamer
Kim Reichig
Pamela Rollins
Judah Rosen
Howard Rosenblatt
Frank Rosenbloom
Edward Rosenwasser
Bernard Roth
Ann Rowley
Susan Judith Rubenstein
Lori Rubin
Lisa Sacks
Sonia Sagues
Barbara and Michael Selz
Kate Shane
Lisa Sheldone
Geoffrey Shepherd
Philippa Shepherd
Bria and Evan Silbert
Scott Simon
Doris Simons
Lisa Sinnot
Mark Slobin
Laura Smith
Deborah Ruth Staiman
Laure Stern
Karen Strok
Arlene Tave
Shelley Teitell
Jeanaya Thomas
Linda Trageser
Barbara Velmerk-Halpern
Renate Wasserman
Evie Weinstein
Sharon Weiss-Greenberg
Jason Winston
Robert Wolkoff
Avison Young
Marcia and Michael Zaccaria
Judith F. Zaruches
Lauren Zinn
Pamela Zitron