Mussar in Tai Chi: Robert Barris: Sunday 4:15 p.m. ET
We will highlight that the flow of the tai chi movements, carry with them deep Mussar teachings. It is during the flow of our very lives that proper alignment of middot becomes especially critical and benefits from this embodied practice.
About Robert: Robert is the co-author of Mussar in Action, with Alan Morinis, translating into English various selections from the Alei Shur, the writings of Rav Wolbe.  He is a practicing psychiatrist since 1984. He is shomer Shabbat and integrates Orthodox practice with Jewish renewal. Robert has had a serious mindfulness practice for many years. He has been active in TMI for the past ten years as a former board member and as the facilitator of several TMI distance va'adim. Robert's interests include lifestyle medicine (particularly nutrition and exercise), the martial arts, and playing with his grandchildren.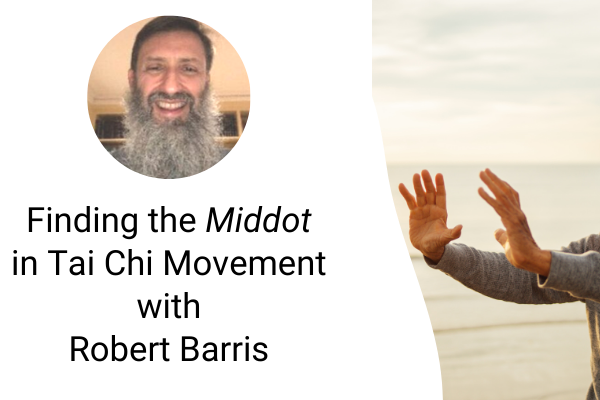 Mussar Movement
Chair Movement: Joni Brenner: Monday 4:15 pm. ET
The session will begin with a niggun, a traditonal Jewish, Mussar chant, then move into gentle stretches and invite all of our limbs to open to receive the blessings of strength and balance. The Talmud tells us that the 248 limbs of the body are connected to 248 positive mitzvot of the Torah. We will, through movement, explore the ways that the middot of Chessed, Savlanut, and Yirah, help the body to be alert, receptive, and strong.
About Joni: Joni Brenner is a Certified Kripalu Yoga Teacher, Certified Yoga and Jewish Spirituality Teacher, and an Ordained Rabbinic Chaplain. She has developed and taught Chair Yoga for the Jewish Guild for the Blind, Huntington Jewish Center, and the Huntington Senior Center. She is very proud of her affiliation with the Mussar Institute. She is a Chavera as well as a member of an extraordinary va'ad.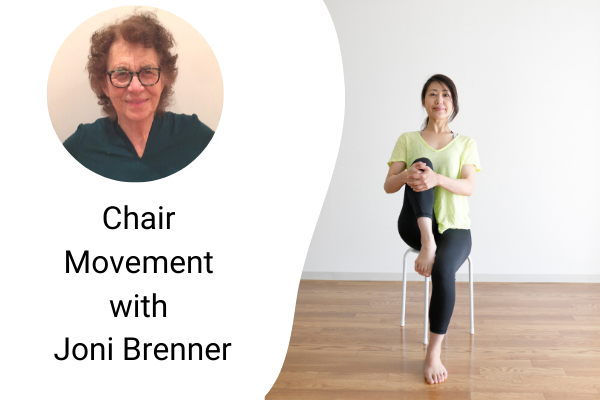 Yinspiration Yoga: Helaine Sheias: Tuesday 12:30 p.m. ET
The session begins with Mussar visualization, followed by 30 minutes of movement and 10 minutes for Q & A.
Rodef Shalom will be interweaved into the sessions with an explicit focus on Mussar middot: Savlanut, Yirah, Ha'karat Hatov and Chesed. 
About Helaine:
Helaine Sheias, Ph.D., made Aliyah to Israel in her teens, served in the IDF, and settled in Israel for more than two decades. She is a graduate of The Mussar Institute Yesod Facilitator Training Program and Manchim Advanced Facilitator Training. She has facilitated various TMI courses for the past three years guiding people to the sacred place within where unity integrates all polarities. This process facilitates circles of transformation and change by modeling spiritual awakening, and self-reflexive learning, or Hitlamdut.
Facilitating Mussar courses brings Helaine deep joy and a continuous sense of awe and wonder.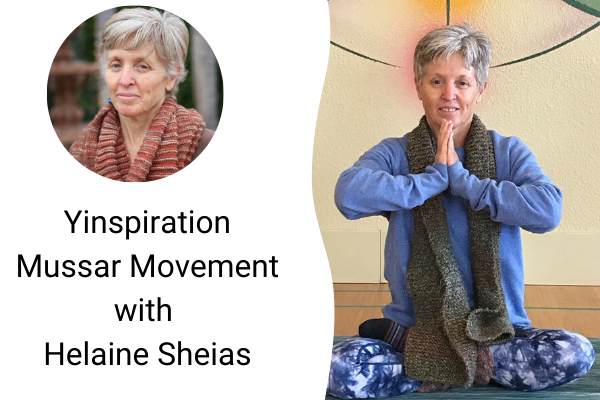 Text Study: Seeking Shalom with Judith Edelstein: Sunday 4:15 p.m. ET
What is shalom? Our prayers and texts are replete with this word, which signifies a specific state. Yet as a people as well as a part of humanity, the notion of shalom as expressed by our tradition seems to elude us. On the contrary, our outer and inner worlds are rife with division and anxiety. Where does this leave us?
Through traditional and contemporary texts, lively discussion, and other modalities, we will explore the concept of shalom to discover whether it is achievable for the individual.
Rabbi Edelstein is a post-denominational teacher, spiritual leader, counselor, and writer who has worked in synagogues, long-term care facilities, and Jewish organizations. She said, "The practice of highlighting different middot enabled me to see my own areas of strength in addition to characteristics that required constant vigilance. This focus created an opportunity for me to be conscious of traits that needed only fine-tuning and those that demanded much more.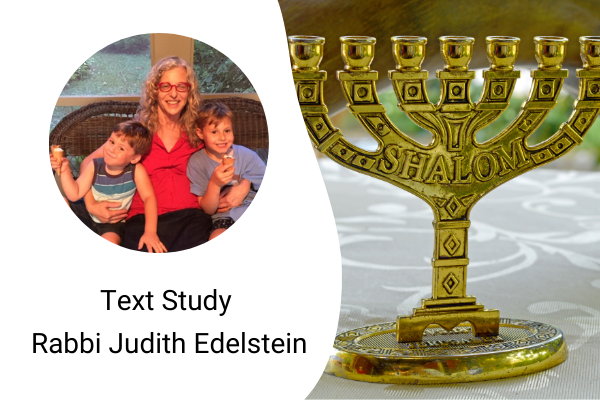 Text Study with Alan Morinis: Monday 4:15 p.m. ET
We are heirs to a lineage of peace. There is reason to see the founder of that lineage as Aharon, brother of Moses, who is described in Pirkei Avot (1:12) as a person who "loved peace and pursued peace," for which there is much evidence in the Torah.
In our prayers we describe God as the one who "makes peace" oseh shalom. There there is a significant lesson for us in the difference we ascribe to God's relationship to peace and that of Aharon. God makes peace "on high," which we can understand as meaning that God creates the reality of peace as a category, in the same way that God undertook the creative activity of making "rest" on the seventh day of creation. Just as rest is not simply the absence of labor, peace is more than the absence of conflict. Both exist as realities in themselves, in the same way as darkness is not just the absence of light.
Aharon, on the other hand, is the archetype of the human relationship to peace, not as a creator but as a pursuer. Once peace has been established as a factor in the universe, it became possible for human beings to seek it out. We will explore how these lessons come down to us through the teachings and the lives of the Mussar masters, in order that we can become more familiar with their teaching, the examples they set in their own lives, and our own spiritual heritage.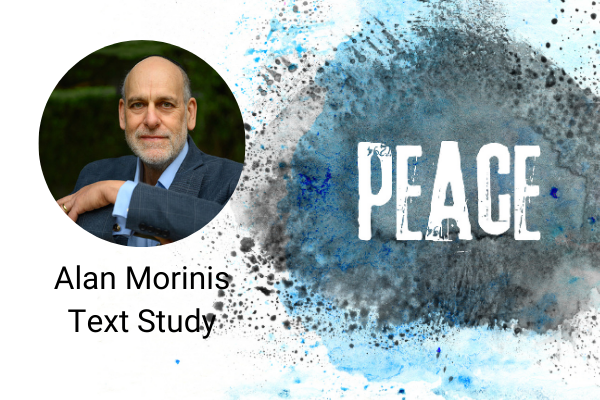 Text Study: Widen Your Tent: Sunday 12:45 p.m. ET and Tuesday 12:30 p.m. ET
Rabbi Micha Berger, a beloved teacher on the TMI Faculty, will guide you through a text study of the closing section of his book, Widen Your Tent. You will study the Mussar path of Rabbi Shimon Shkop and his student, Rabbi Dovid Lifshitz.
Wholeness and Peace – how internal sheleimut (wholeness) grows into external shalom (peace) as we broaden our self-definition from "my self" alone to an "I in community".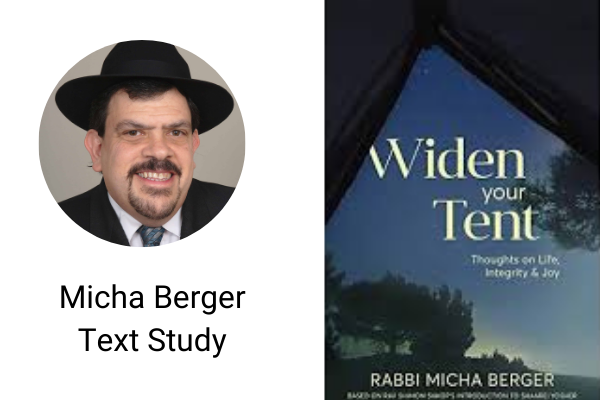 Art Workshop #1: Contemplate Your Shalem within Shalom: Sunday 12:45 p.m. ET
You will be led through a guided meditation and then set free to color (or create your own) beautiful mandala. Bring your own mandala or download and print one of these three samples. Bring your colored pens, colored pencils, or crayons. Duration 60 minutes.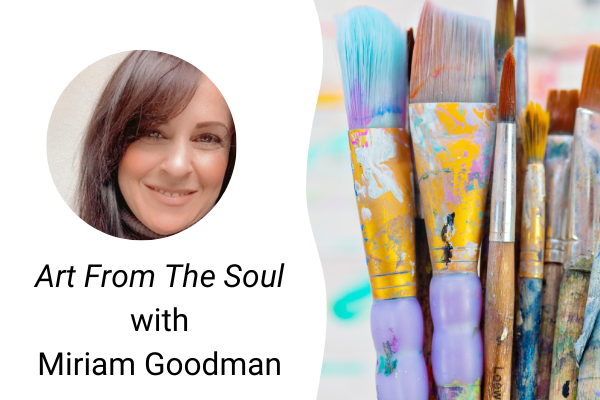 Art Workshop #2: Your Miraculous Heart
Sunday 4:15 p.m. ET
This art workshop will be an exploration of your miraculous heart. 
We will create a piece of art that takes you on a journey of investigating, with curiosity, what you imagine is inside your heart.  Please bring: paper - colored or white, markers or crayons, and your journal.

Duration 60 minutes.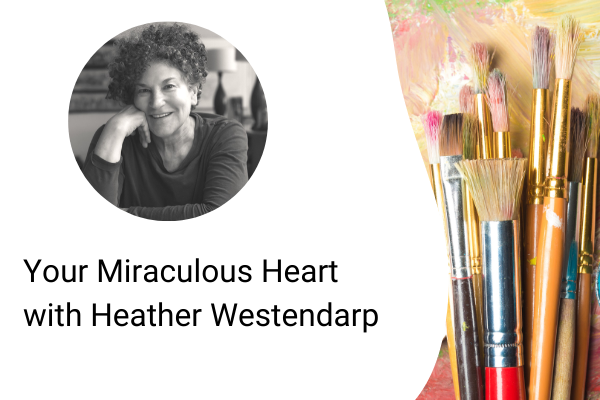 Art Workshop #3: Journal and Collage a Path to Shleimut: Monday, 4:15 p.m. ET
In this workshop, you will begin with a brief journaling activity that will guide your creation of a collage. Please come prepared with: a writing implement (pen, pencil, colored pencils, marker); one or more pieces of blank white or colored paper for your journaling; one or more pieces of differently-colored paper to serve as a background for your collage; glue or glue stick or glue, and your journal.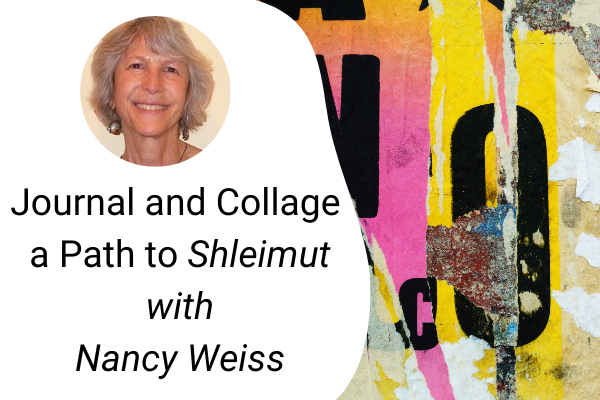 Art Workshop #4: Expressive Art for Mussar Facilitators (co-facilitated by Nancy Weiss and Miriam Goodman) Tuesday, 12:30 p.m. ET
In this workshop, you will be introduced to expressive arts activities that can be adapted to stimulate a heart-felt relationship with different middot. Please come prepared with:
Several pieces of blank paper-white and colored; writing and drawing implements (pen, pencil, colored pencils, markers); scissors, glue or glue stick; your journal.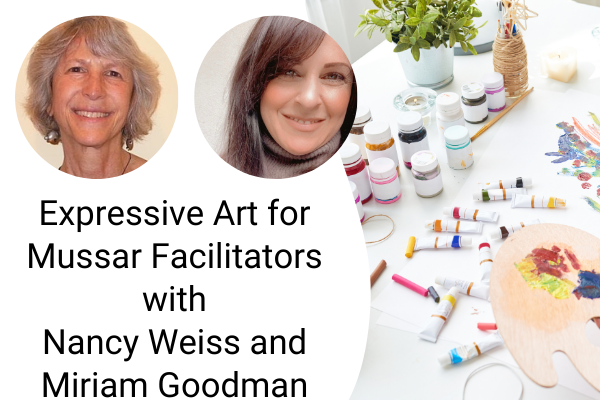 Chanting Workshop #1: Using Chanting in Your Mussar Practice:  Sunday 12:45 p.m. ET
We will delve into the why and how of Mussar chanting practice.  What benefits can it bring to your Mussar journey?  How can you get going, even if you think you can't sing?  Everyone is welcome - singers and non-singers alike.
Chanting Workshop #2:  Developing Your Own Mussar Chant: Sunday, 4:15 p.m. ET
In this workshop you will have the opportunity to develop your own Mussar chant.  We will lead you through a process: selecting a phrase, finding its rhythm, making it your own, listening for more wisdom. No previous experience nor expertise is needed. If you already have a middah or a phrase you'd like to explore, please bring it. If not, we'll supply some suggestions. Even if you think you can't, just give it a "chants."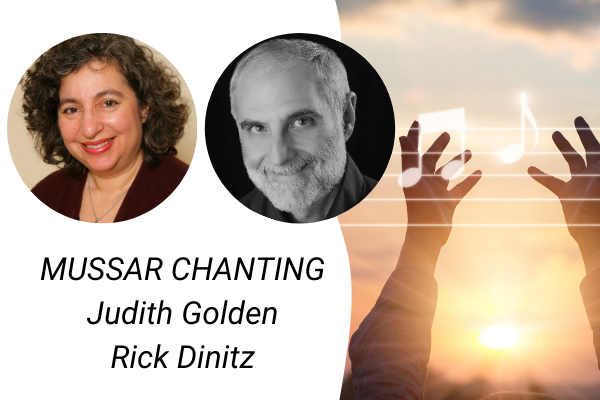 Chanting Workshop #3: Delving Deeper through Extended Chanting, Monday 4:15 pm. ET
In this workshop we will be chanting for an extended period of time to see what bubbles up.  Sometimes we need time to let what is inside simmer and bubble up experience a chiddush (new insight). You might want to have your journal handy.
Chanting Workshop #4:  Chanting Challenging Texts: Tuesday 12:30 p.m. ET
In this workshop, we will encourage you to work with a phrase that you are resistant to or disagree with. Through chanting this phrase, can you come to a lesson that you need to hear?
Come with a text that bothers you. You might also want to have your journal handy.