We are a community of learners and seekers who strive to reach our full potential as individuals and in our communities.
We draw on and share the teachings of Mussar, a practical and inspiring Jewish spiritual tradition, to foster a life of greater meaning and enhanced relationships.
We open the pathway of Mussar to Jews of all denominations and affiliations, and to others who wish to explore these Jewish spiritual practices.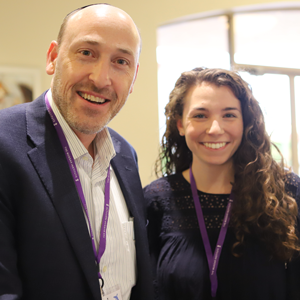 In the Summer of 2020, we surveyed our community about the ways Mussar study and practice impact their lives. We heard from 345 respondents. Here are the results.
We strive to support meaningful, lasting, spiritual life change for our members and our broader Mussar community worldwide which has grown to more than 7,000.
Serving our community is the center of our vision and we have grown our membership to nearly 400.
Numbers tell only part of the story. The quality of our courses and programs is paramount.
The Chaverim Community Grows to nearly 400

Mailing List Signups Exceed 7,000

Mussar Students In All Programs Compared to Annual Goal
1999

Alan Morinis begins intensive study in the Jewish spiritual tradition of Mussar with Rabbi Yechiel Yitzchok Perr and Rebbetzin Shoshana Perr.

2002

Alan Morinis' first book on Mussar, Climbing Jacob's Ladder, is published. Alan authors three more books, Everyday Holiness (2007), Every Day, Holy Day (2010), and With Heart in Mind (2014).

2004

In response to requests for education and training in Mussar, Alan Morinis gathers the first board to establish The Mussar Institute. In ensuing years, TMI becomes the world's leading provider of contemporary Mussar resources and instruction.

2019

The Mussar Institute begins the Chaverim Initiative, its sustaining membership program, to respond to the need for connection and more intermediate and advanced-level instruction in the growing global Mussar community. The Chaverim Initiative is open to all.
The Mussar Institute is a non-profit organization governed by a volunteer Board of Directors.
Alan is widely considered to be a leader in the resurgence of contemporary Mussar. Born into a culturally Jewish, non-observant home, he studied anthropology at Oxford University on a Rhodes Scholarship. He teaches, writes curriculum, and speaks frequently. His books include Climbing Jacob's Ladder, Everyday Holiness, With Heart in Mind. LEARN MORE
Avi Fertig, Director of Mussar
Avi has guided TMI courses since 2010. He is the author of Bridging the Gap, a comprehensive guide to important Mussar concepts and lessons from the Talmud. Born in the United States, for the past 25 years he has resided in Israel and currently lives in Beit Shemesh with his wife and six children.
Rivka Felsher, Director of Administration
Rivka brings to TMI nearly two decades in private and public higher education administration and instruction, private congregational school leadership and instruction, educational consulting, and freelance editing and writing. She holds a Ph.D. in Educational Leadership and is an avid potter. She resides in Southeast Florida with her husband and two children.
Eric Gurvis, Director of Chaverim and Outreach
Eric is a graduate of SUNY-Albany and was ordained at the Hebrew Union College Jewish Institute of Religion in New York. Eric has served congregations in New York City; Jackson, MS; Teaneck, NJ; Newton, MA; and is currently the rabbi of Sha'arei Shalom in Ashland, MA. Eric facilitates Mussar groups throughout the Greater Boston area and in Western Massachusetts. He and his wife, Laura Kizner Gurvis are blessed with four children and two young grandsons.
Debra Pinger, Director of Communications and Marketing
Debra brings many years of public relations experience to her work. She has been an agency Senior Counselor, the Director of Communications and Development for the Nashville Film Festival, and the Executive Director of the VIA Institute on Character, an organization that studies the science of character strengths. She lives on the St. Lawrence Seaway in New York.
Dianne Benmayor, Customer Service and Technical Assistant
Dianne brings a wealth of experience in customer service and management gained in the luxury giftware industry. She is a certified yoga instructor with more than 500 hours of teaching experience. She teaches and has taught yoga, including Mussar Yoga, at a variety of locations including the Mayerson JCC, Wise Temple, and other congregations. She discovered Mussar after being enlightened by one of her students about Edith Brotman's book, Mussar Yoga, and through the book she found TMI. She lives with her husband in Cincinnati, OH. They have two grown children and a beloved granddaughter.
Leslie-Anne Copes-Finke is the Teen Program Manager for The Mussar Institute (TMI), co-leader of the Teen Task Force, and a member of the Board of Directors. As a member of the education staff at Beth El Temple Center in Belmont, MA, she has facilitated TMI's Challenges and Choices: A Jewish Teen's Guide to a Balanced Life with a group of 11th and 12th grade teens for the past year.
With over ten years of experience in the areas of leadership and team effectiveness, and another ten years working professionally in fundraising, Leslie has served as a consultant for Combined Jewish Philanthropies' Leadership Development Institute, is a Vice-Chair of the URJ Communities Leadership Team (NE), and has held senior positions at several not-for-profit organizations, including Boston Baroque, WNET-NY, UCS, and Common Ground Stage and Film Company. She is the proud mother of three, ages (17, 20, and 23), and is a past president of volunteers in her synagogue community.