Course Structure
Each interactive webinar session will be 75 minutes and will be recorded for those who cannot join live. We highly recommend that you also study these texts in chevruta (we will assist you with chevruta pairing upon request).
Course Materials
Participants should purchase a copy of Soul Construction by Ruchi Koval available HERE with international and audiobook purchase options.
Links to webinars and recordings will be emailed to participants and all lecture recordings and additional study materials will also be accessible on our Makor learning platform for those who miss live teachings or wish to review prior lessons.
Course Schedule
Class meets bi-weekly on Tuesdays at 4 pm ET on the following dates:
November 7, 21, December 5, 19, 2023, January 2, 16, 2024
Chevruta partners will meet in between large class meetings at a time convenient for you.
Course Fees
Introducing our three pricing options, please select the one you are most comfortable with. If you are able to register at a higher tier, you can help subsidize course registration for those with greater financial need. All course fees are 100% tax deductible.
Non-Chaverim Tier 1 - $330 Non-Chaverim Tier 2 - $282 Non-Chaverim Tier 3 - $198
Chaverim members enjoy a 15% discount off of course pricing. Members, please select the Chaverim rate of your choice on your registration form, membership will be verified before your enrollment is secured for the course.
This powerful new course, flexibly designed for all learners, is based on the book, Soul Construction, by Ruchi Koval. Participants will come to understand the concept of Mussar both theoretically and practically. The course covers six middot including:
Acceptance of Others

Judging favorably

Forgiveness

Constructive Speech

Renewal

Happiness
The weekly themes, discussed in large group setting and chevruta study pairs will focus on:
Acceptance of Others
Discover why people in our lives are there for a reason, how Abraham is a model of acceptance of others, what is conditional versus unconditional love, God's unconditional love of us, and obstacles to acceptance.
Judging Favorably
Learn how being judgmental harms you, three levels of judging favorably from beginner to advanced, and obstacles to judging favorably.
Forgiveness
Find out new ways to apologize, what happens if we're not forgiven or when the person we've wronged is no longer in this world, six steps to forgiveness, and how to forgive yourself.
Constructive Speech
Open yourself to the power of speech in Jewish philosophy and law, the impact of a well-placed phrase, the importance of validation, the motivations behind criticism, and how to utilize critical feedback to grow.
Renewal
Develop an understanding of "teshuvah," how to get back up better than before, the role that regret, guilt, and shame play in our lives, and what holds us back from renewal.
Happiness
Gain the knowledge that happiness is a choice and within you, not in someone else's hands, and the roles that gratitude, joy, laughter, and faith have in your happiness.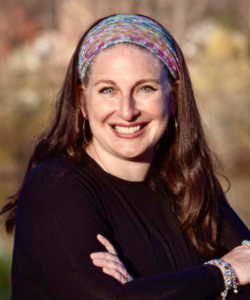 Ruchi Koval is the co-founder and director of the Jewish Family Experience in Cleveland. She is a certified parenting coach, educator, author, musician, and motivational speaker. Her first book, "Conversations with G-d," was released in 2016. Ruchi was a recipient of the CJN's 18 Difference Maker award in 2015. She has been teaching Mussar from classical texts to hundreds of students for well over a decade.