GATES OF EVERYDAY HOLINESS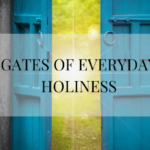 Gates of Everyday Holiness contains more Hebrew than Seeking Everyday Holiness as well as chevruta study materials.
The Jewish tradition of Mussar offers the Jewish world a deep and rich experience of spirituality. In this introductory program, participants are brought into a deep exploration of the nine most important soul-traits or middot, humility, patience, order, equanimity, honor, truth, moderation, responsibility and trust. The text, which every participant receives, is the inspiring book, Everyday Holiness, by Alan Morinis, Founder of The Mussar Institute. Based on the text, participants are guided through a weekly study of one middah. Through discussions in a safe, small group of like-minded seekers, led by a facilitator trained by The Mussar Institute, participants explore and create their own personal life curriculum.
Each participant receives a copy of Everyday Holiness to guide their study with weekly lessons. It is our consistent experience that the wisdom of Mussar helps people develop awareness and wisdom for living and often leads to spiritual transformation.
Congregations receive a comprehensive package of educational and spiritual tools including suggested Newsletter Text and a One-Hour Meeting to Introduce the Course.
PROCESS AND FEES
Books are included for an additional $15 each shipped directly to your congregation.
Returning congregations/organizations – $450 for materials/facilitator guide + $15 per book, no training/support included
New congregations/organizations – $600 for materials/facilitator guide + $15 per book, 5 hours of phone/videoconference support included
New congregations/organizations – $800 for materials/facilitator guide + $15 per book, Yesod foundational Mussar facilitator training program enrollment for 1 included (must be scheduled and completed prior to facilitating the program)
If you are interested in bringing these transformative Mussar teachings to your congregation/organization, please contact Rivka Felsher rivka@mussarinstitute.org so that we can direct you to the appropriate package. We will be happy to assist you and answer any questions.
Congregational programs are available for purchase by TMI-trained facilitators offering this program through their synagogue, JCC, or their LLC or by the organization itself. Ownership of the perpetual license can be the organization or individual. Trained facilitators must be in agreement with their organization as to who will own the license prior to purchase. Organizations who make a purchase without already having a TMI-trained facilitator can hire one by requesting the list of available facilitators from TMI and must contract with a facilitator for hire before receiving the program materials. Such organizations must arrange all logistics and payment directly with the facilitator for hire. To request the list, please email info@mussarinstitute.org.