MUSSAR WORKSHOPS AND COMMUNITY ENGAGEMENT
Kallah XX 2023 will feature three sets of one-hour workshops across our three-day online event. These workshops, led by experienced members of our community, are one of the most popular parts of the Kallah and will explore the theme of Love/Ahava and Merging into One. 
While our entire program is designed to foster connection and community, there will also be one session, with five different options, that focuses exclusively on TMI Community Engagement. You will have the opportunity to network and offer your input into different areas central to our Mussar community.
Workshop Sessions by Focus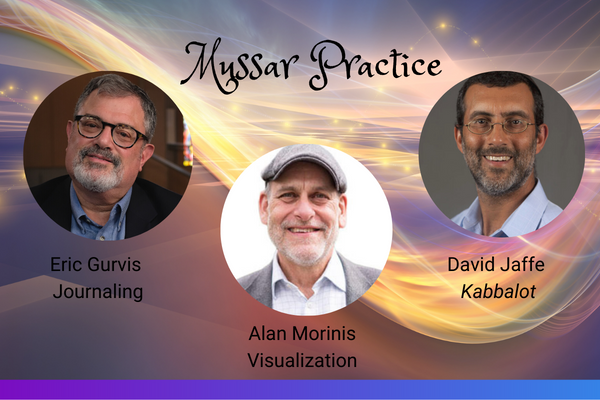 Mussar Practice Workshops
Strengthen Your Heshbon HaNefesh: Journaling with Eric Gurvis. This session will be an interactive and practical workshop on how best to build up our Heshbon HaNefesh Journaling as a key part of our Mussar practice. Bring whatever you need in order to practice journaling!
What You See is Who You Are: Visualization with Alan Morinis. The Mussar greats of the past teach us that ideas do not transform people, experiences do. Along with other transformative methods, they developed and taught the practice of visualization. Whatever you see in your imagination leaves its imprint, and so repeating the experience of certain images, as we will do in this workshop, has the capacity to rework your inner life.
Resolving to Love: Kabbalot with David Jaffe. This session explores the practice of Kabbalot and provides guidance to concretize a Kallah takeaway leading to integration, transformation, and spiritual growth.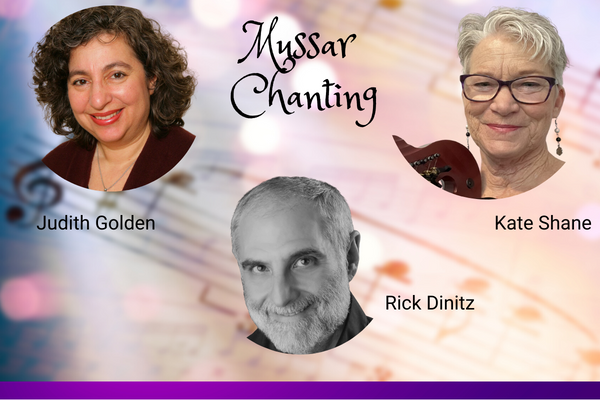 Chanting is an opportunity to deepen your Mussar practice in a way that requires no previous experience, expertise, or musical talent. There is much to explore here.
Exploring Styles of Chanting with Rick Dinitz. In this workshop, we will emphasize doing the chanting, rather than talking about chanting. We'll explore different styles in Mussar chant—chanting for retention, chanting for depth, and chanting with emotional energy. We'll experiment with techniques from Kelm, Novarodok, and Mussar Blues (a modern synthesis). Please bring your journal.
Chanting with Kavanah with Kate Shane. In this workshop, we will explore how a single chant can impact us differently based on our Kavanah, where we point our hearts as we chant. Please bring your journal.
Developing Your Own Mussar Chant with Judith Golden. In this workshop, you will have the opportunity to develop your own Mussar chant. We will lead you through a process: selecting a phrase, finding its rhythm, making it your own, and listening for more wisdom. No previous experience nor expertise is needed. If you already have a middah or a phrase you'd like to explore, please bring it. If not, we'll supply some suggestions. Even if you think you can't, just give it a "chants."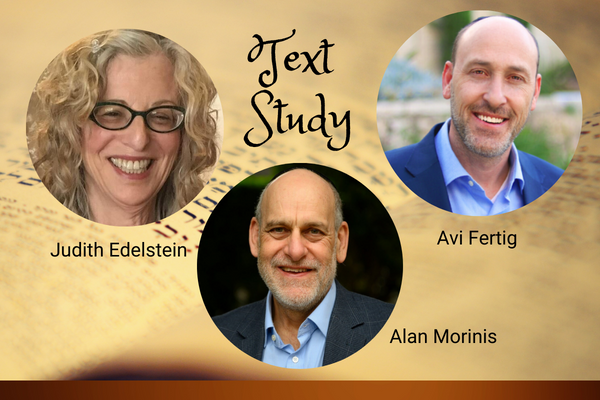 The Positive and the Negative with Alan Morinis. When we observe how much praise we lavish on people who dedicate their lives to the welfare of others, and what honor we give to people who selflessly serve their community and those in need, how could there possibly be any virtue in loving yourself? Yet self-love is surely and clearly a virtue in Jewish thought. Is this a contradiction? Or do love of self and love for others somehow connect to each other in a positive way? These are among the questions we will explore in the insightful and challenging investigation of self-love written by Rabbi Yitzchok Isaak Sher (1875-1952), Rosh Yeshiva of the Slabodka Yeshiva.
Love Your Neighbor as Yourself? with Judith Edelstein. Through discussion of traditional and contemporary texts and music, we will explore our understanding and impact of this phrase. Practices and meditation will be part of our session.
Ahavat Ha'Briot: Loving Creations (Advanced Text Study) with Avi Fertig. Avi will lead us line by line through a Hebrew text by Rabbi Avraham Grodzensky, the primary student of the Alter of Slabodka, who was appointed Spiritual Advisor of the Yeshiva. R' Avraham's son-in-law was Rabbi Shlomo Wolbe, esteemed author of Alei Shur. The text explores the interplay between loving self and loving others and how this interplay lies at the center of one's spiritual work.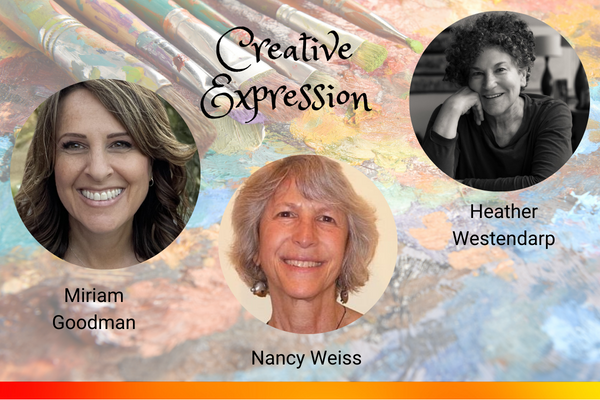 Through our creativity, we can discover aspects of ourselves that had previously remained hidden from us. Three esteemed teachers will lead workshops using a variety of materials and prompts, and focus on the Kallah theme of ahava / love.
Love and the Self with Nancy Weiss. Nancy is a depth psychotherapist, spiritual director, and Mussar facilitator dedicated to helping others discover unique pathways to their soul's expression. She is a member of TMI's Facilitator Development Council and Coordinator of Manchim after working closely with Alan to create the Manchim curriculum. She has also co-created the new Tapestry course with Helaine Sheias, helping to bring the woman's voice of Mussar to our community.
Love and the Other with Heather Westendarp. Heather is a Mussar Facilitator and a graduate of TMI's Manchim Advanced training program who guides individuals in her va'adim to their sacred places within. She models spiritual awakening and sensitive awareness.
Love and the Divine with Miriam Goodman. Miriam is a professional fine artist whose work is displayed all over the country. She is a Manchim graduate, experienced Mussar facilitator, and Spiritual Director who also works for Hebrew Union College.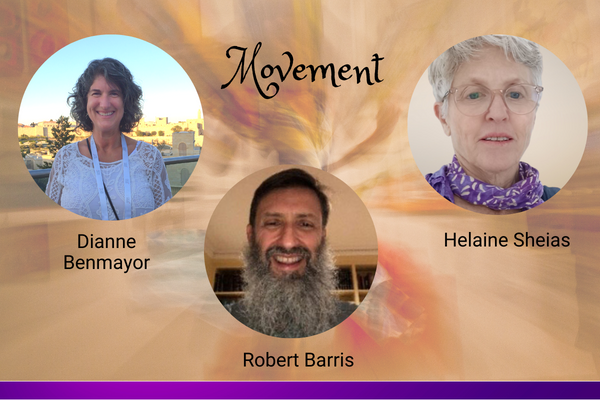 Explore the intersection of Mussar middot and your mind, body, and soul with three esteemed teachers.
Merging Into One Breath: A Moving Meditation with Robert Barris. Robert co-authored Mussar in Action with Alan Morinis, is a practicing psychiatrist and is a lifelong martial arts practitioner.
Ahavat Ha'Ani: The Practice of Self-Love Through Movement, Alignment, and Conscious Breath with Dianne Benmayor. Dianne is the Operations Associate at TMI. A 10-year Yoga Instructor, she has taught Mussar Yoga at her Synagogue and for several Jewish organizations in Cincinnati.
V'Ahavata V'Yada'ata: And You Loved and You Knew with Helaine Sheias: Based on a teaching from Ramchal's

 

Messilat Yesharim, the workshop will focus on how we can strengthen the Love of God through the cultivation of an embodied Mussar practice. Through mindful movement and conscious breath, we will explore our

 

olam pneimi / inner landscape to help us understand where Divine love sits within us.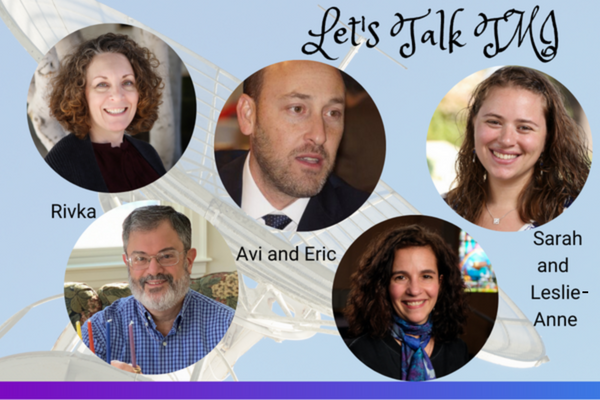 Let's Talk TMI (formerly TMI Schmooze Room)
Introducing Makor: TMI's New Learning Platform with Rivka Felsher. Join Rivka, Director of Operations, to learn more about Makor, The Mussar Institute's dynamic, engaging, and interactive new learning platform.
Kallah Debrief and TMI Programming with Avi Fertig and Eric Gurvis. Join Avi Fertig, Director of Mussar, and Eric Gurvis, Director of Chaverim and Outreach, to discuss TMI programming and to share your reflections on Kallah. We want to hear your voices!
Teen Program Informational with Leslie-Anne Copes-Finke and Sarah Canfield-Dafilou. Come hear about our innovative and highly acclaimed Mussar program for teens with Leslie-Anne Copes-Finke, Director of Teen Program, and Sarah Canfield-Dafilou, Teen Program Associate. Learn how you can bring it to the youth in your community, either as an ambassador or as a facilitator! We will also share information about our successful Teen Program Facilitator Training Series, as well as two new pilot programs in development: a Virtual Teen Va'ad and a program for parents of teens.
Community Engagement (formerly Networking)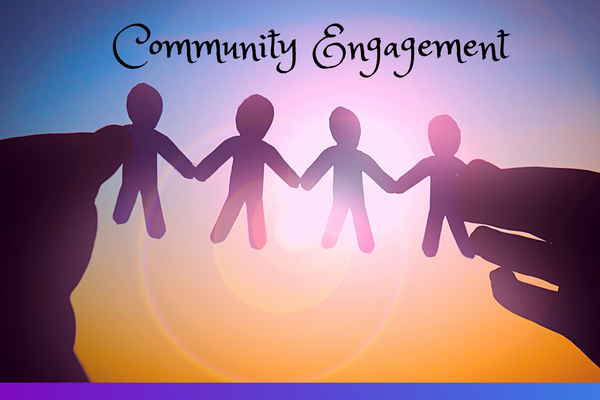 Refreshing your Skills: Mussar Facilitators Open Mic with Evie Weinstein and Harvey Winokur. Join Evie Weinstein and Harvey Winokur, co-Chairs of the Facilitator Development Council, for an open discussion on what continuing facilitator education should look like.
A Networking Gathering for Teen Program Facilitators with Leslie-Anne Copes-Finke and Sarah Canfield-Dafilou. This special engagement session is designed for current Teen Program facilitators to share best practices, successes, and challenges they've experienced bringing the Challenges and Choices program to their teen community. We will also offer a short teen-focused Mussar teaching on ahava / love to bring into their classrooms.
TMI-Inclusivity and Visioning 2.0 with Irv Robinson, Sandra Garrett, and Helaine Sheias. Listen, learn, and be inspired by all that has happened since our last Kallah, including The Women's Va'ad, our visioning process, and the Tapestry course pilot. Come share your ideas as we connect around important aspects of our organization.
Envisioning Chaverim 2.0: A Town Hall with Sandy Greenstein and Eric Gurvis. As we work on envisioning the next iteration of our Chaverim Initiative and community, we want to hear from you, our Chaverim. What are the TMI community's needs? What are your interests? As we envision a Chaverim 2.0, we want to deepen our community's relationships and connections. Sandy and Eric invite your ideas and feedback. Join us as we connect and dream together about Chaverim 2.0, and help us build TMI's Community Vision! 
Sharing Your Nachas / Joy! with Susan Goldberg Schwartz. Reb Nachman of Breslov said, "Let the good in me connect with the good in others until all the world is transformed through the compelling power of love." What better way to connect than by sharing joy, a fundamental middah for being human. As a professional Jewish educator, Susan Goldberg Schwartz finds great joy in hearing people's personal stories and making connections with others who share similar interests. Come give voice to the simchas (happy events) in your life and share your inner joy with others.